Welcome to the Gstaad Festival Orchestra
Jaap van Zweden
From 2017 Principal Conductor of the Gstaad Festival Orchestra and the Gstaad Conducting Academy
The Dutch conductor Jaap van Zweden, who has been announced as new music director of the New York Philharmonic effective 2018, will be heading the Gstaad Conducting Academy and the Gstaad Festival Orchestra in Gstaad as of 2017.
By engaging the star conductor Jaap van Zweden, Gstaad Menuhin Festival raises its latest projects – Gstaad Conducting Academy, which is unique in Europe – to another level. Since the unmatched top education project for junior conductors was launched in 2014 with conductor Neeme Järvi, it has taken place three times.
55-year-old van Zweden will head the Conducting Academy and conduct 2 to 3 programs a year with the Gstaad Festival Orchestra. Performances at the Schleswig Holstein Music Festival have already been scheduled for August 2017. At the same time, he will head, together with guest professors, the public workshops for the conducting students that take place within the scope of Gstaad Academy.
Van Zweden, who formerly was concertmaster of the Concertgebouw Orchestra Amsterdam for 16 years, did not start his conducting career until he was in his late 30s. Since then, his professional development has been unequalled. Currently, he is music director in Dallas and Hong Kong and regularly guest conducts major American orchestras, such as New York, Chicago and Cleveland, and leading European orchestras such as the Orchestre de Paris. Starting with the 2018/19 season, van Zweden becomes music director of the New York Philharmonic.
Van Zweden's musical focus, along with new music, is on the late Romantic repertoire: he has conducted celebrated cycles of Brahms and Bruckner, and recently received much attention for his interpretations and recordings of Wagner's "Das Rheingold" and previously for "Parsifal" with orchestras in Hong Kong and Amsterdam, as well as for many world premieres. His musicality is frequently described as "elemental musical power or force" – and he invariably captures audiences with it.
During his childhood and adolescence, Jaap van Zweden visited Gstaad and its surroundings with his family. However, he did not return here until recent years when he came to Gstaad for his summer and winter holidays.
Van Zweden has been engaged for the Gstaad festivals in 2017 and 2018. The agreement includes an option for extending the position to 2019.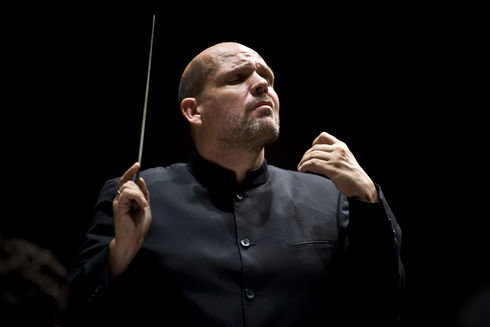 Photo: Hans van der Woerd
Review summer 2016
25 July until 19 August 2016
Gstaad Conducting Academy 2016 with Prof. Neeme Järvi, Artistic Advisor
Georgios Balatsinos and Neeme Järvi (Conducting Academy 2014; Foto: Raphael Faux)
Gstaad offers rising conductors an opportunity unparalleled in the whole of Europe of working with a professional orchestra - the Gstaad Festival Orchestra - and giving concerts under the supervision of experienced conductors. With Neeme Järvi, his team and the Gstaad Festival Orchestra, the Menuhin Festival and its Gstaad Academy are on course to become the leading summer academy for young conductors in Europe. The course is open to public audition. Each week ends with a concluding concert, conducted by Conducting Academy students.